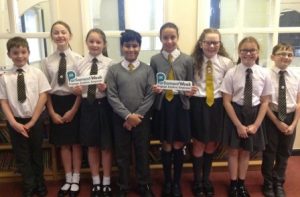 At the start of this half term we took part in UK Parliament week and attended our Hopwood Pupil Parliament meeting. We discussed how we could work with other Pupil voice groups and decided to create 12 videos to celebrate the Twelve Books of Christmas and promote reading across school. I was videoed reading an extract from a Christmas book. We also went to Media City to take part in the Walking with the Snowman Trail. We then led an assembly in front of the whole school to tell them all about the snowman trail and our snowman Bill. We have also set up our PIPS PowerPoint presentations which we delivered in class. We set up the iPad and laptops to be used for Times Table Rock Stars day.
By George and Ben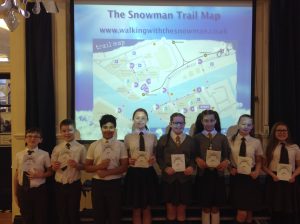 This half term we have been using the app touchcast to help the Year 3 children create their calendars. We set them a background of the 4 seasons; summer, spring, autumn and winter. The Digital Leaders made a green screen , set it up in the ICT suite and invited the children up to have their pictures taken in front of the green screen.
I used keynote when doing my PIPS presentation to Year 6. I also discovered how to convert them into a Powerpoint and to email them to our teachers, which I helped some of our pupils across school with. I also taught some of the teachers how to convert them.
We used Movie Maker when creating our '12 books of Christmas' videos and learned how to edit them, add photos, trim sound clips and add videos of our teachers and the children reading their favourite Christmas books. These have been published on our school's social media accounts.
I learnt how to Photoshop our photos of our trip to 'Walking with the Snowman'. I edited the photos to get rid of the background for our presentation and a poster I made with Rayaan with our snowman Bill on and the twelve large snowman.
By Mia
We have been helping Year 3 do their calendar by using touch cast app, where we use the green screen technology to put them in to different seasons. We also took part in our Digital Leader assembly where we stood up in front of the whole school and told everyone about the snowman walk. Alexia created the power point that we used to support our assembly. She used the images of the snowmen that Mia had saved having photo shopped the backgrounds out.
By Isabelle and Chloe