Moorhouse-Challenge 4
We made app review videos for Epic and Class dojo for teachers.
https://www.thinglink.com/video/1169964961280032770
https://www.thinglink.com/video/1164908504121606146
Cameron lead a session on an app he likes (Epic). He read a book with the Year 1 class all about snakes reptiles on the app. Next he set them a quiz on the book. The children really enjoyed his quiz and are starting to use Epic at home.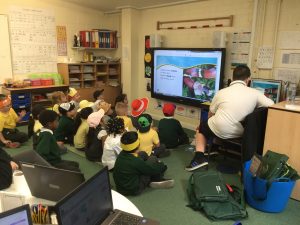 Mieszko lead a session on his favourite app (Scratch) with the help of Mia and Cameron. He showed the children how to add a background, change their sprite, add sound and make their sprite move. The children had never used Scratch before and had lots of fun.